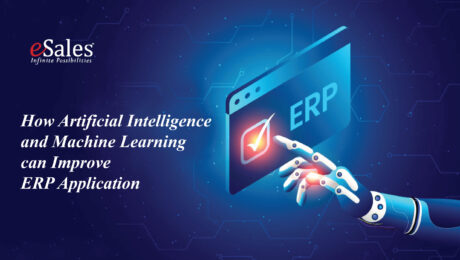 Artificial Intelligence (AI) and Machine learning can revolutionize the world. Due to the enormous advancements in these areas, there will be unrecognizable scenarios in this world. By integrating Artificial Intelligence (AI) and machine learning into your business, you can maximize your business profits. ERP providers can fill the gap legacy with the help of AI & machine learning.
Let us see some of the effective ways to improve ERP with AI and machine learning.
Cloud ERP platforms create and strengthen the self-learning knowledge system that orchestrates AI and machine learning from the shop floor to the top level and across many supplier chains. Having a cloud-based infrastructure that combines core ERP Web applications, apps, and real-time monitoring to provide a steady stream of data to AI and machine learning algorithms hasten how quickly the entire system learns. The Cloud ERP integration roadmap needs to include APIs and Web applications to connect with the more suppliers and buyer systems outside the box of a manufacturer while combining with legacy ERP systems to collect and analyze the decades of data they have generated.
Resolving issues before it occurs
When a problem occurs in the system, it damages valuable resources, such as productivity, time, and amount. Machine learning provides an advanced solution for this, and it prevents massive disaster before it occurs.
Advanced analytics
Machine learning will provide detailed insights and analytics about the metrics that are important. By looking at the parameters, you can have more in-depth insights into the demographics of customers. These will help you to offer a better solution for better conversions. If you run a retail store, the metrics you pull could pertain to how long a customer spent on a particular product page.
The advanced analytics give you the power to create that will enhance your business. One most important thing is to pull data from a system; it's game-changing to be able to analyze it effectively.
Forecasting
Analytics and algorithms play an important role in ERP: forecasting capabilities. By searching through the collected data, AI integrations can make predictions that will enhance your ability to forecast for future periods. It will be able to sense the seasonality in your business, making suggestions about increasing or decreasing production accordingly. If you search deeper, it will also be able to look at customer history and identify any behavior patterns, allowing you to predict future order quantities.
Other than being comfortable and minimizing the things used to create forecasts that may or may not be correct, machine learning and AI in ERP enhance your business processes. By manufacturing the correct amount of inventory, you're mitigating the risk of over or under production. This means lesser inventory storage issues and no costly small-scale productions to make up a big difference. Finally, AI in ERP means lower costs and higher revenue.
Improving customer service with virtual agents
Virtual Agents is the AI and machine learning tools that were once thought about in science fiction. With the correct combinations, they can be used to train employees and assist them through complex processes and even provide customer service. Adding AI into ERP systems gives an extra focus on customer service, as they can see what their customers are asking about in real-time, while a virtual agent answers all the important questions. Other than having a customer service rep handling a queue of disgruntled customers, consumers can ask questions about their order, and the AI will offer the required information based on customer's requests.
When it's all said and done, AI and machine learning can reshape a business, making it more efficient and profitable. In this modern era, it's not whether you can afford to incorporate AI and ML into your ERP– it's whether you can afford not to.
Looking for more?
Contact eSales Technologies for anyone looking to find the right ERP for their business/organization.
[email protected] |www.esales.in |631 – 889 – 2884 | 631 – 649 – 4125